This website is dedicated to the American mystery and science fiction author Amelia Reynolds Long (1903-1978). Long was born in Columbia, Pennsylvania on the 25th November, 1903. At a very early age Long moved with her family to the nearby town of Harrisburg, where she lived for the rest of her life. Long attended the University of Pennsylvania, from which she graduated in 1931. As a young writer, she wrote a selection of superb short stories that were published in the science fiction and weird pulp magazines of the 1930s, before turning her writing talent towards producing a series of mystery novels - many of which appeared under a variety of pseudonyms - for which she is perhaps better remembered. These include Death Wears A Scarab (1943) and The Lady Is Dead (1951).

Little is known of this author, indeed there is virtually nothing on the web about her. Her main period of published writing was almost exclusively the 1930s and 1940s. It is unfortunate that nobody ever brought out a collection of her science fiction stories. Along with Clare Winger Harris and C. L. Moore, Amelia Reynolds Long was one of the first female science fiction writers. It is sad that along with so many other great authors writing in the mid-twentieth century, Long's fiction has fallen into obscurity and is hardly remembered today. Her one-time literary agent, Forrest J. Ackerman, is the man solely responsible for keeping some of her work in print. Ackerman wrote in his anthology Gosh! Wow! Sense of Wonder Science Fiction (in which he included the Long story "Omega") that he met Ms. Long in her home town of Harrisburg, Pennsylvania in the mid 1960s. He described her as "...a 50ish librarian type, a kind of Andre Norton of any earlier era." However accurate this description of Amelia Long really was, Ackerman has since been instrumental in the reprinting of other stories by Long, such as "The Thought Monster," "A Leak in the Fountain of Youth" and "The Box From the Stars."
Long's prose style was very direct. Her writing was sharp, witty and punchy. With good dialogue and a sense of high speed adventure pervading her stories, it is even more impressive how much of her science fiction and weird fantasy work still seems fresh today. Reading the stories now, one can't help but marvel at the sheer explosion of ideas that leap out from the pages. In "Omega" (1932), Long gives us a tour-de-force of creativity in describing, step by step, a possible end of the world. "Reverse Phylogeny" (1937), one of her finest stories, is a humorous time travel yarn which the eminent science fiction editor Groff Conklin included in his 1953 "Science Fiction Adventures in Dimension" anthology. Even with her tale "When the Half Gods Go-" (1939), which has dated with time (carrier pigeons on Venus?!?), the twist at the end still takes the reader by surprise and the writing is brilliant. Her early short story, "The Thought Monster" (1930), was filmed as "Fiend Without a Face," a 1958 horror movie directed by Arthur Crabtree. Great examples of her fantasy work - published in Weird Tales magazine - include "The Undead" (1931) and "The Magic Maker" (1930).

Around 1940, Long gave up writing science fiction. She then focused her talents on writing a number of entertaining mystery novels. Long's mystery writing was heavily influenced by Agatha Christie and was very much part of the traditional "whodunit" genre as opposed to the hard-boiled "noir" school of writing so popular at the time Long's books appeared throughout the 1940s. Her sleuths were always very well written and as well as the ingenuity of her plotting, it was her adeptness at drawing interesting, believable characters that made her mystery novels a pleasure to read. At the start of the 1950s, Long stopped writing mysteries and concentrated her energies on editing textbooks and writing poetry.

Long is remembered in her home state of Pennsylvania for her poetry work. In 1977 she edited the poetry anthology Pennsylvania Poems, on behalf of the Harrisburg Workshop, a chapter of The Pennsylvania Poetry Society. Her own poems were often reflections on the past and illustrated Long's interest in American history. Other poems penned by Long were delightful observations on the natural world. Her poetry often dealt with the theme of mortality and there is to be found a spiritual, melancholic aspect to many of her poems. Examples of her most beautiful poetry are "The Paxtang Indian Path," "Lucifer's Reply," ""Our Ghosts Draw From the Crowded Future"" and "I Dreamed of Long Dead Cities." Poetry, as evidenced by her wonderful collections Counterpoint (1975) and Shreds and Patches (1974), was a form of writing that Long immersed herself in during her later years. She was active in the Pennsylvania and New Jersey Poetry Societies, where she judged poetry contests and attended conventions. Her name lives on in the Pennsylvania Poetry Society's Amelia Reynolds Long Memorial Award. In her later years Long was a curator at the William Penn Museum in Harrisburg, Pennsylvania. She continued to work there as a volunteer after her retirement.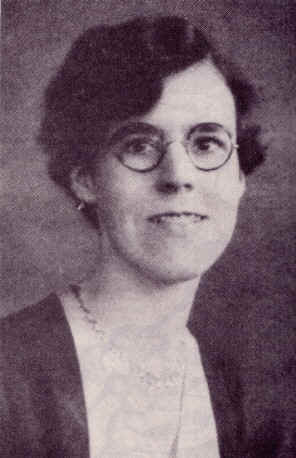 Amelia Reynolds Long
Graduation photo from the University of Pennsylvania, 1931.
Amelia Reynolds Long passed away at her home in Harrisburg, Pennsylvania, on the 26th March, 1978. Her main legacy, for those who never knew her, is of course her splendid writing, unjustly ignored for so long. It is her underrated literary work that this website is dedicated to. It is hoped that those interested will be inspired to search out her wonderful short stories, novels and poetry. Whether you are a fan of her work or just curious, I hope you find this website informative. I am very interested in hearing from anyone who has some knowledge to share whether it be biographic or bibliographic information. There are some exciting additions to this website planned for the future and I intend to add even more scanned images of cover artwork from her books and early pulp magazine issues that contain her work, such as Weird Tales. So please bookmark this site and come back soon. It is my ultimate wish to make this the foremost source of information for the work of Amelia Reynolds Long.
Email: marks3789@gmail.com